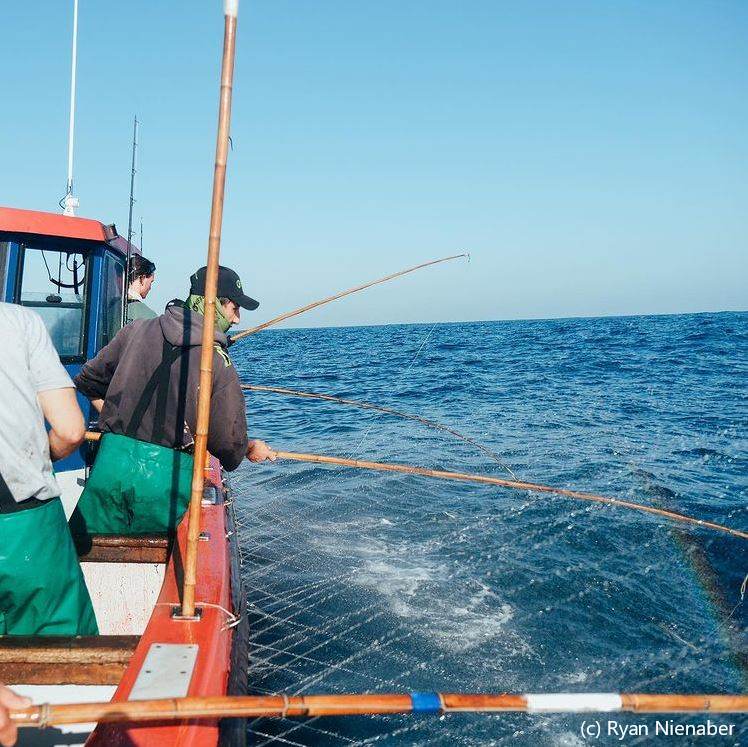 Fishery
South Africa pole-and-line and troll yellowfin tuna
Location & History
Pole-and-line and troll fisheries for tuna in South Africa date back to the 1970s and are the oldest commercial fisheries for tuna in the country. In 1979, there was a surge in productivity as yellowfin tuna became available close to Cape Point, the most south-westerly point of Africa. After the boom in yellowfin tuna, came the crash and soon they became less available, and fisheries had to refocus their efforts towards albacore tuna. Yellowfin tuna are still found in South Africa during spring and summer in the SouthWest Cape region. Typically, yellowfin tuna are exported to fresh tuna markets, with a small number sold on local markets. South Africa is a founding member of the International Commission for the Conservation of Atlantic Tunas (ICCAT), looking to ensure the conservation of tuna species across the Atlantic Ocean.
How is the Tuna Caught?
Yellowfin tuna have two seasonal stints in South African waters per year. Vessels fishing for yellowfin operate out of Cape Town or Hout Bay harbour. To begin fishing the vessel have to head anywhere from 10 to 40 miles out to sea to find the current line where the warm waters of the Indian Ocean wrap around Cape Point, protruding into the nutrient rich cold water upwellings of the Atlantic Ocean (a feature which is unique to South Africa). The skippers must monitor the water temperature as they move and once the water temperature exceeds 18℃ they can begin fishing. To find the yellowfin, the fishers use a heavy duty rod and reel set up and begin to troll large artificial lures through the water. They closely monitor the water and fish-finder for signs of life includings bait fish on the surface of birds feeding overhead. Occasionally the presence of the tuna is given away by the sight of a feeding yellowfin bursting several feet clear of the surface in pursuit of prey.
Once a fish is hooked on the troll lines, a yellowfin tuna school has been located and the boat will stop and other members of the crew will begin a chum line using frozen sardines. The crew will then switch to using heavy duty rod and reel to target the yellowfin using a sardine deadbait on a single hook. The tuna are caught individually, and can take anywhere from 10 minutes, up to over an hour to bring on to the boat.
Unique Features
Something that makes fisheries in South Africa unique is that 54 % of the rights to fish using pole-and-line have been allocated to Black individuals or Black-owned and controlled businesses, while 29.19% have been allocated to females or female-owned and controlled businesses.
Typical Vessel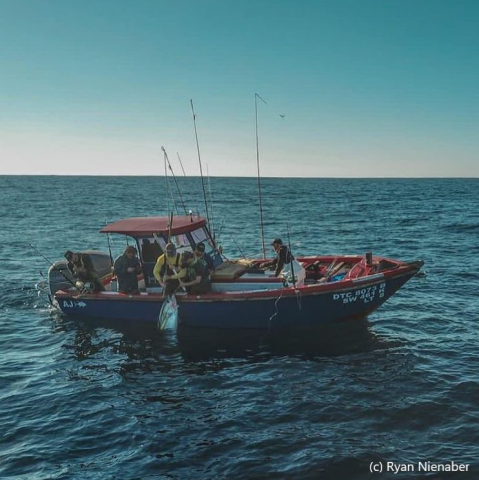 | Item | Value |
| --- | --- |
| Crew Size | 5 |
| Size Range(m) | 7-9 |
| Details of Type of Engine | Powerful outboard motor |
| Hold Capacity | 1-2 |
| Onboard Cold Storage? | Yes |
Fleet Capacity
15

t

Annual Catch Volume (metric tonnes)
25

Number of Vessels
250

Local Employment
Target Species
Yellowfin tuna are located around the world in warm tropical and subtropical waters, close to the surface of the ocean. The meat from the fish is pale pink in colour and mild tasting due to the lower fat stores in their body as a result of their location in warmer seas.
Find out more about

Yellowfin Tuna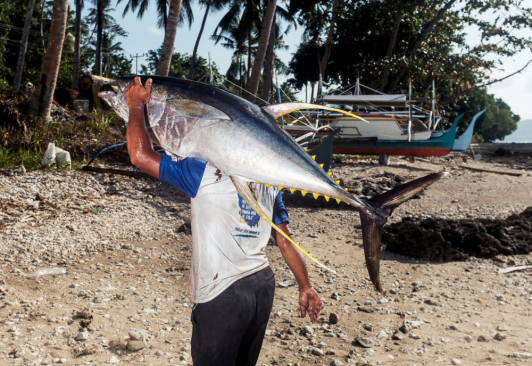 Fishing Gear
This fishing method provides the most selective targeting of tuna possible, with minimal bycatch of non-target fish and marine wildlife like dolphins, turtles and sharks. Pole-and-line fishing targets schools of tuna near the ocean surface, and therefore only needs to use short lengths of line on each pole, typically  5-10m.
Find out more about

Pole-and-line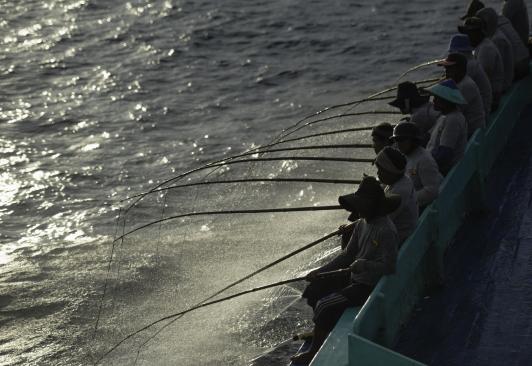 Traceability
Traceability systems are used in food supply chains to track a product from production to consumption. They assist with ensuring that standards and regulations are met throughout the supply chain, which is very important for products that travel across the globe, such as tuna.
Good traceability reduces contamination, disease, and spoilage. In the case of seafood, it also helps to maintain sustainable fish stocks in the oceans so we can keep enjoying tuna for years to come.
Most importantly, traceability provides transparency through the supply chain, allowing all parties including the consumer access to information about the products they are buying.
Upon landing, batches of tuna are labelled with a specific code, which includes the vessel name and date of landing. This specific label will be processed with the fish through the supply chain to allow for ultimate tracking.
Find Out More
Fishery Association
What is an industry association?
Industry associations are responsible for enforcing industry specific standards and regulations to protect employees and companies within that industry. They have a range of responsibilities such as providing industry specific information to businesses and useful resources, engaging in education programs, and supporting businesses so that they can reach and maintain industry standards.
Another important role of an industry association is lobbying governing bodies to take action on issues that are affecting the industry in question.
What is a fishery association?
Fishery associations are generally not-for-profit organisations that represent fisheries in one area of the world. Fishery associations are important for small-scale and artisanal fisheries, to defend their rights in a competitive industry and lobby governments for their support of these fisheries.
These associations ensure fishers are protected as employees in this industry, and that fish stocks are being managed appropriately to ensure the fishers trade will continue and be prosperous. Some associations represent employees throughout the supply chain, from fishers, to processors, to distributors, protecting the workforce from the source to your plate.
Large Pelagic SMME Association
The Large Pelagic SMME Association is a recognised industry body in South Africa which represents the major players within the tuna pole-and-line industry from vessel owners, operators, processors, exporters and marketers alike, all of which are small-to-medium enterprises.

The Association assists its members with all aspects of the industry, and unites them to address pertinent industry issues. The Association's focus is mainly on, but not limited to, the representation of the pole-and-line industry at all Department of Agriculture, Forestry and Fisheries Working Group Meetings, as well as South African Maritime Authority industry meetings.
The Large Pelagic SMME Association is committed to fishing for the future by practicing sustainable fishing methods whilst exercising the utmost care for the environment at all times.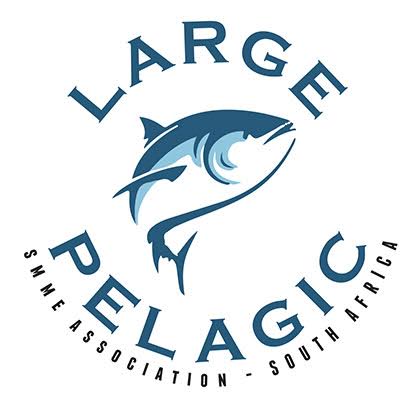 South African Tuna Association (SATA)
The South African Tuna Association (SATA) was formed as a non-profit organisation in 1985 by a group of pole-and-line tuna vessel owners. It is one of the oldest and longest standing South African registered industrial bodies, in terms of the Marine Living Resources Act. Today, the Association represents some 75 local pole-and-line vessel owners and operators.
SATA is committed to, and advocates for sustainable practices, particularly regarding South Atlantic albacore tuna, the fisheries traditional target species. The Association continues to play an active role in the management of tuna fisheries, both locally and abroad, to enhance the benefits of responsible fishing for South African fisheries.
Find out more

Regional Fisheries Management Organisation
Indian Ocean Tuna Commission (IOTC)
Regional fisheries management organisations (RFMOs) are international bodies formed to manage fish stocks in an oceanic area. They include several countries with fisheries operating in that area, and some focus on particular species such as tunas. They are established through international agreements and treaties. RFMOs typically collect fishery statistics, assess fish stock conditions, monitor fishery activity and make fishery management decisions.
The Indian Ocean Tuna Commission (IOTC) is the RFMO responsible for managing tuna and tuna-like species (including billfishes and some sharks) in the Indian Ocean. Their main objective is to manage fish stocks, by ensuring fisheries operate sustainably, so benefits from relevant fisheries in the region can be maintained into the future.
Stock Status Reports
Yellowfin Stock Status
2021-03-25
The stock status of a fish species signifies whether a species is 'overexploited', 'fully exploited' or 'underexploited'. Different organisations use different parameters to assign these labels. For example, the Food and Agricultural Organisation of the United Nations (FAO) deems any species to have less than 40% of it's 'unfished biomass' to be overexploited.
The aim of assigning stock status to a species is to ensure that catches are kept at a level where future catches will not be affected, in other words, to maintain a healthy, viable population of fish.
In addition to biomass, spawning potential, catch trend and size-age composition may be used to determine stock status. These are important factors to consider as some species are more resilient than others and have different ecological features. For example, yellowfin tuna have a higher reproduction rate and are typically more resilient than other tuna species.
Download Report
National Reports
South Africa
2022-01-01
National Reports are formal documents from members of the Tuna Regional Fisheries Management Organisation (tRFMO) in question. Each country that falls within the tRFMO must report on the state of their national fisheries in relation to the requirements of that tRFMO. They are normally presented to the annual Scientific Committee meetings by a credentialed head of delegation - considered national scientists. The tRFMO normally prescribes what the report should entail and how it should be structured, which would also include progress on key resolutions on conservation and management measures, and brief the ongoing scientific research of interest to the tRFMO.
Download Report