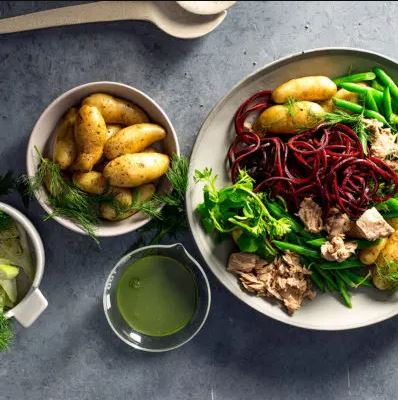 SERVES 6
DIFFICULTY Easy
DIETARY CONSIDERATIONS Carb Conscious Dairy free Fat conscious Health conscious Pescatarian
PREP TIME 5 minutes
COOKING TIME 20 minutes
WINE / SPIRIT PAIRING Woolworths Catherine Marshall Pinot Noir 2016
What you'll need
Ingredients
Quantity
fennel bulbs, shaved
2
avocado oil, plus extra for drizzling
1 tbsp
lemon, juiced
1⁄2
fingerling potatoes, boiled
700 g
green beans, blanched
200 g
Woolworths beetroot spaghetti, to taste
watercress
80 g
170 g cans tuna, drained
2
100 ml Woolworths cold-pressed meaner greener juice, for drizzling
1
Sea salt and freshly ground black pepper, to taste
Instructions
Method
Shave the fennel bulbs, toss with avocado oil and the juice of a lemon, season and set aside.
Boil the fingerling potatoes until tender, adding green beans for 2 minutes to blanch. Drain.
Assemble the salad with a tangle of Woolworths beetroot spaghetti, watercress, cans of drained tuna, the potatoes, green beans and fennel.
Dress with Woolworths cold-pressed meaner greener juice shot, avocado oil and season to taste.