Product
Light Meat Tuna Chunks in Brine 170 g
Woolworths
Woolworth's light meat tuna chunks in brine is caught by hook and line one at a time while supporting fishing communities, protecting our oceans and future stocks of tuna.
This can contains pole-and-line caught tuna that has been preserved in brine for a treat packed full of flavour that deserves the front spot in your pantry.
This product comes from a fishery that has been independently certified as responsible.
Serving suggestions:
Decant from the can and drain. Ideal to use as a filling for sandwiches or in salads with crunchy fresh salad ingredients. Use in stir-fries or tomato based pasta sauces. 
Find out if this product is in stock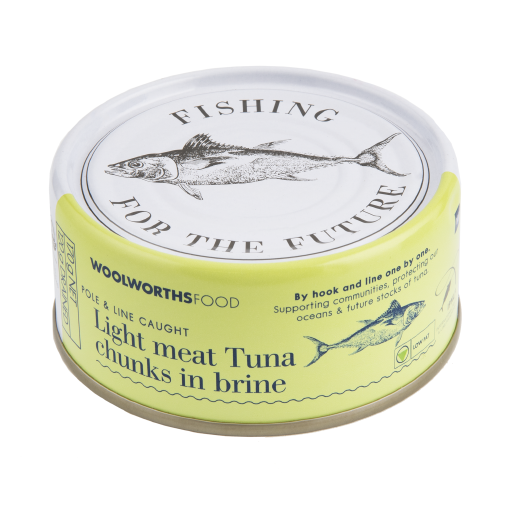 Caught one-by-one by hook and line

Skipjack tuna

The skipjack tuna, Katsuwonus pelamis, used in our private label tuna is sourced from fishermen in the Maldives who use a centuries-old method that involves one fisher using one pole, line and hook to catch one fish at a time – something that requires great strength and dexterity by the fisher. It is one of the most selective ways to catch tuna, significantly reducing bycatch and harm to other marine life. Pole-and-line fisheries are also socially responsible as they help ensure the economic viability and resilience of local coastal communities.
Inspiration needed?

Find your favourite tuna dishes here

Woolworths TASTE is a multi-award-winning food magazine and a flagship brand for the retailer. Find all your favourite, healthy and delicious food recipes and inspiration there!
Fishing for the Future

Fishing for the Future ensures that all our seafood is responsibly sourced and fully traceable to the fishing boats that supply us. By supporting sustainable fisheries we can make a difference together.
"Woolies" is a leading retailer with their own values and passions for quality and sustainability being reflected in their long list of community engagement projects and sustainable products, including their pole-and-line caught private label tuna.
Find out more about

Woolworths
This fishing method provides the most selective targeting of tuna possible, with minimal bycatch of non-target fish and marine wildlife like dolphins, turtles and sharks. Pole-and-line fishing targets schools of tuna near the ocean surface, and therefore only needs to use short lengths of line on each pole, typically  5-10m.
Find out more about

Pole-and-line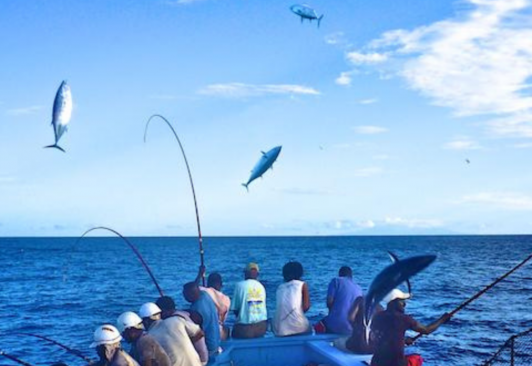 Skipjack are generally smaller in size compared to other tuna species and also have shorter lifecycles, meaning they can start reproducing very early, after only one year. This has benefits for sustainability, and makes it one of the most abundant tuna species.
Find out more about

Skipjack Tuna