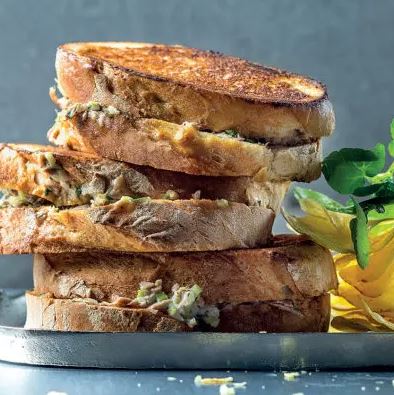 SERVES 3
DIFFICULTY Easy
DIETARY CONSIDERATIONS Pescatarian
PREP TIME 15 minutes
COOKING TIME 4 minutes
WINE / SPIRIT PAIRING Woolworths Jordan Unwooded Chardonnay 2016
What you'll need
Ingredients
Quantity
170 g cans light meat tuna chunks
2
thick mayonnaise, plus extra for spreading
3 tbsp
lemon juice
1 tbsp
Italian parsley, chopped
1-2 tbsp
onion, finely chopped
1 tbsp
celery, finely chopped
1 tbsp
garlic cloves, crushed (optional)
2
Sea salt and freshly ground black pepper, to taste
white or brown farm-style loaf
6 slices
Watercress, for serving
Crisps, for serving
Instructions
Method
Drain the tuna well, then transfer to a bowl. Separate into large flakes using a fork and mix well with the remaining ingredients except the bread, cress and crisps. Chill until ready to use.
Sandwich 3–4 T of the mixture between 2 slices of bread.
Spread the outside of the sandwich with a thin layer of mayonnaise and slowly brown in a nonstick pan, covering the bread with a square of baking paper, and weighing it down in the pan.
Serve with cress and crisps.
Cook's note: Pan-fry these sandwiches for extra decadence (after spreading them with mayo rather than butter). Or, you could lose the bread and heap the tuna mayo onto hot baked potatoes instead.