Product
Albacore White Tuna Fillets in Olive Oil 180 g
Woolworths
Albacore tuna or White tuna is scientifically known as Thunnus alalunga. Our White tuna fillets are responsibly sourced and hand packed in olive oil to preserve its delicate taste.
Serving suggestions:
Prepare flavourful appetizers such as  bruschetta's or crostini's. 
Top the bread/cracker base with your choice of cream cheese, thinly sliced cucumber or any other crunchy vegetables, topped with the Albacore white tuna fillet pieces. Sprinkle with fresh micro herbs.
Ideal to use in salads or served on it's own with freshly squeezed lemon juice.
Find out if this product is in stock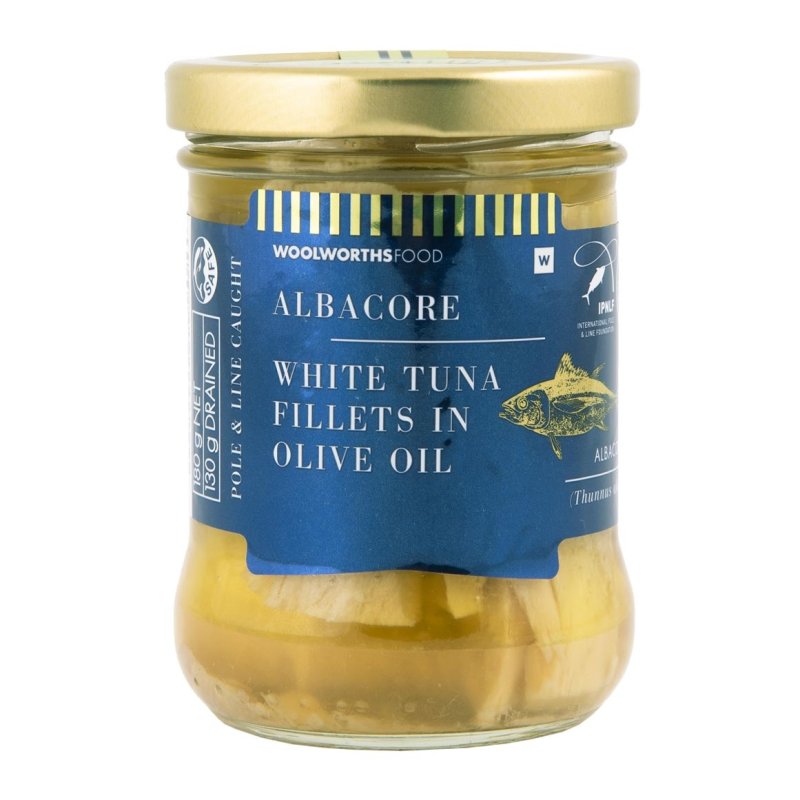 Caught one-by-one by hook and line

Albacore tuna

The albacore tuna, Thunnus alalunga, used in our private label tuna is sourced from fishermen in the USA (pole-and-line or troll caught) or New Zealand (troll caught) who use one pole, line and hook to catch one fish at a time – something that requires great strength and dexterity by the fisher. Pole-and-line and troll fisheries are two of the most selective ways to catch tuna, significantly reducing bycatch and harm to other marine life. These fisheries are also socially responsible as they help ensure the economic viability and resilience of local coastal communities.
Serving suggestion

Use it to make appetizers or snacks with bread or crackers.
Use it in salads or straight out of the glass jar.
Our difference

Fishing for the Future ensures that all our seafood is responsibly sourced and fully traceable to the fishing boats that supply us. By supporting sustainable fisheries we can make a difference together.
"Woolies" is a leading retailer with their own values and passions for quality and sustainability being reflected in their long list of community engagement projects and sustainable products, including their pole-and-line caught private label tuna.
Find out more about

Woolworths
This fishing method provides the most selective targeting of tuna possible, with minimal bycatch of non-target fish and marine wildlife like dolphins, turtles and sharks. Pole-and-line fishing targets schools of tuna near the ocean surface, and therefore only needs to use short lengths of line on each pole, typically  5-10m.
Find out more about

Pole-and-line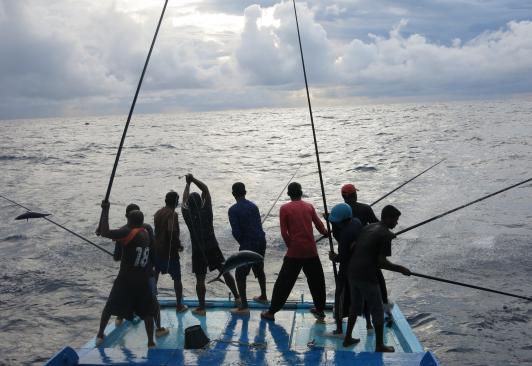 Albacore tuna have particularly long pectoral fins, which inspired their name "Tombo" meaning dragonfly, in Hawaii. This species of tuna is an important contributor to the US canned tuna industry, but can be eaten in numerous different ways.
Find out more about

Albacore Tuna