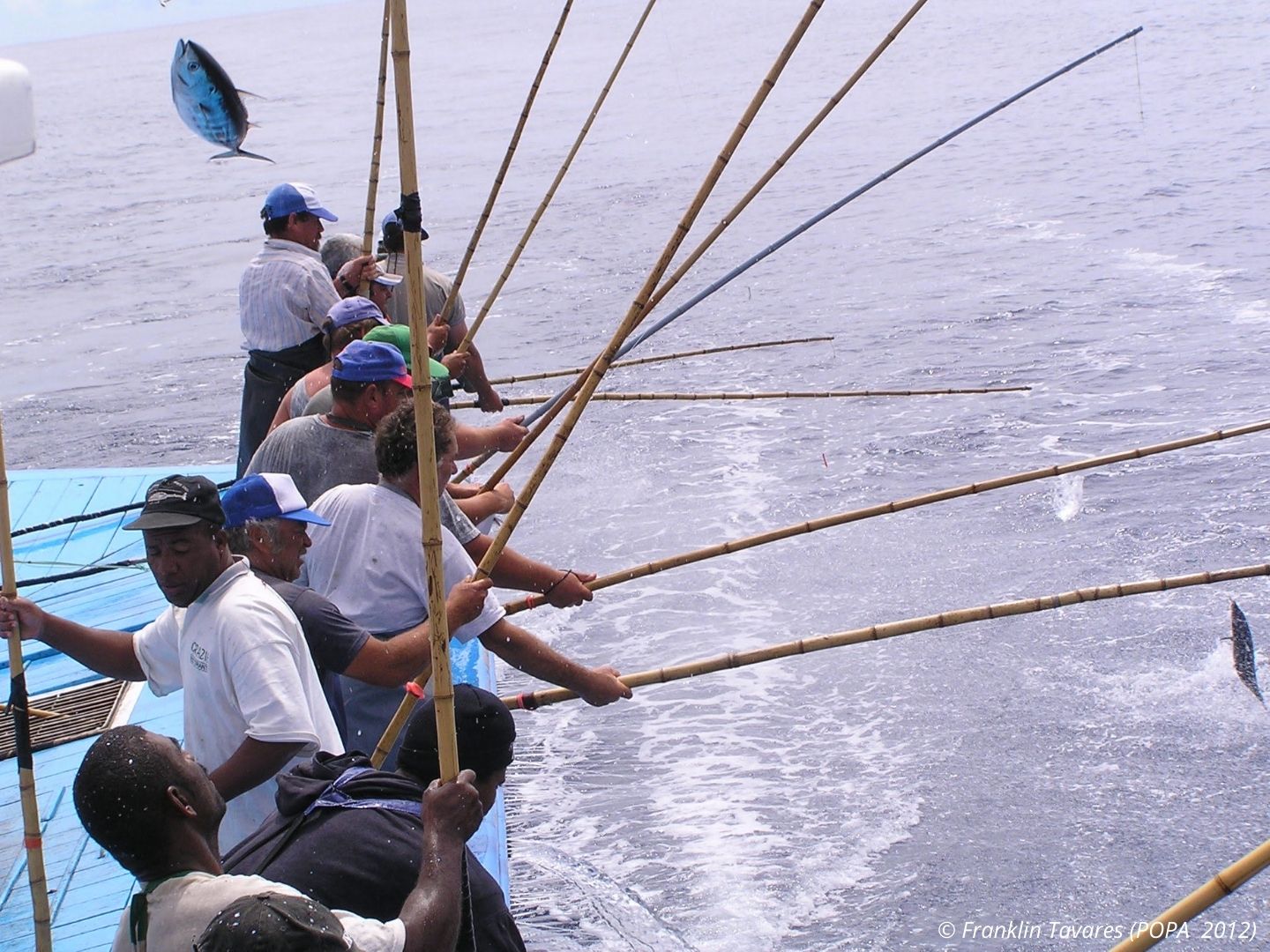 Fishery
Azores pole-and-line albacore tuna
Location & History
This fishery is located in the most isolated island chain in the North Atlantic. The main fishing areas include coastal fishing grounds, around large, deep sea rock formations known as seamounts, and offshore areas within Azores' fishing limits. Fishing for tuna using handlines dates back to the 16th century, and the pole and line fishery as we know it today only started in around 1950. Azorean emigrants, from the United States brought ship plans and new fishing gears back to the islands and since then, the fishery has remained practically unchanged.
How is the Tuna Caught?
Within pole and line, specific gears are used to catch albacore tuna - "verdasca", "trocho", and "espanhol":
"verdasca" – a hard, wooden pole with a barbless hook attached at the end of a line, where the tuna is hooked at the surface and then rapidly dragged to the vessel; 
"trocho" – A large bamboo pole sometimes operated by two or three fishers with a barbless hook at the end of a line that can fish a little bit deeper; and 
"espanhol" – This gear can hook large fishes at greater depths connecting to a second line for extra support.
Unique Features
Using exclusively pole-and-line and hand-line techniques, this is the second most important fishery in the region, often contributing to half of the total seafood landed in the islands. Fisheries represent about 3.8% of the regional economy providing work for fishers, factory workers (which are mostly women-run), and shipyards across different islands.
Fun Fact: Data from POPA, a fisheries scientific data collection program, shows that in the last three years, some fishing events occurred around whales, suggesting that fishers are using those animals as "nature signs" to reach tuna.
Typical Vessels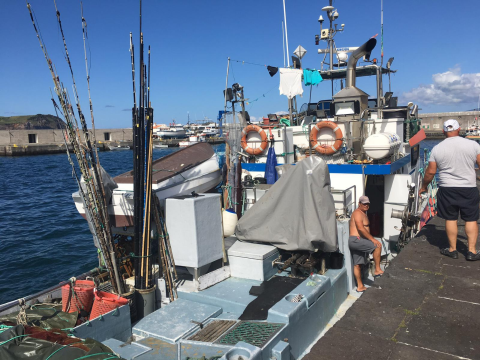 | Item | Value |
| --- | --- |
| Crew Size | 15 |
| Size Range(m) | 12 |
| Details of Type of Engine | 180 cv horsepower |
| Onboard Cold Storage? | Yes |
| Item | Value |
| --- | --- |
| Crew Size | 15 |
| Size Range(m) | 12-20 |
| Details of Type of Engine | 270 cv horsepower |
| Onboard Cold Storage? | Yes |
Fleet Capacity
4301

t

Annual Catch Volume (metric tonnes)
69

Number of Vessels
Target Species
Albacore tuna have particularly long pectoral fins, which inspired their name "Tombo" meaning dragonfly, in Hawaii. This species of tuna is an important contributor to the US canned tuna industry, but can be eaten in numerous different ways.
Find out more about

Albacore Tuna
Fishing Gear
This fishing method provides the most selective targeting of tuna possible, with minimal bycatch of non-target fish and marine wildlife like dolphins, turtles and sharks. Pole-and-line fishing targets schools of tuna near the ocean surface, and therefore only needs to use short lengths of line on each pole, typically  5-10m.
Find out more about

Pole-and-line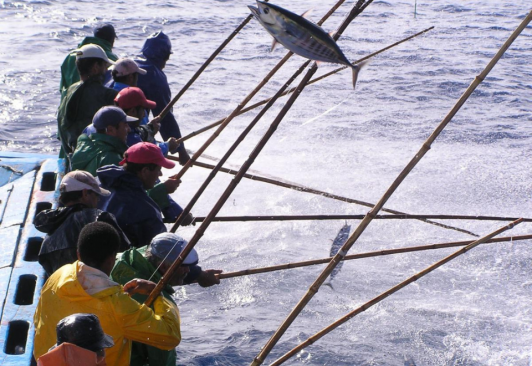 Traceability
Traceability systems are used in food supply chains to track a product from production to consumption. They assist with ensuring that standards and regulations are met throughout the supply chain, which is very important for products that travel across the globe, such as tuna.
Good traceability reduces contamination, disease, and spoilage. In the case of seafood, it also helps to maintain sustainable fish stocks in the oceans so we can keep enjoying tuna for years to come.
Most importantly, traceability provides transparency through the supply chain, allowing all parties including the consumer access to information about the products they are buying.
Azores Fishery Observer Programme (POPA)
Monitoring and full traceability is imperative for the skipjack tuna that are caught by Azorean vessels. Fishing trips are monitored by an observer from the Azores Fishery Observer Programme (POPA). POPA are responsible for collecting scientific data on fishing vessels, including information on the target species as well as any bycatch.
Find out more
Fishery Association
What is an industry association?
Industry associations are responsible for enforcing industry specific standards and regulations to protect employees and companies within that industry. They have a range of responsibilities such as providing industry specific information to businesses and useful resources, engaging in education programs, and supporting businesses so that they can reach and maintain industry standards.
Another important role of an industry association is lobbying governing bodies to take action on issues that are affecting the industry in question.
What is a fishery association?
Fishery associations are generally not-for-profit organisations that represent fisheries in one area of the world. Fishery associations are important for small-scale and artisanal fisheries, to defend their rights in a competitive industry and lobby governments for their support of these fisheries.
These associations ensure fishers are protected as employees in this industry, and that fish stocks are being managed appropriately to ensure the fishers trade will continue and be prosperous. Some associations represent employees throughout the supply chain, from fishers, to processors, to distributors, protecting the workforce from the source to your plate.
Associação de Produtores de Atum e Similares dos Açores
ASSOCIAÇÃO DE PRODUTORES DE ATUM E SIMILARES DOS AÇORES (APASA) is a 31-year-old fisheries association, which has been a producer organisation for over 10 years.
APASA represents the pole-and-line tuna vessels in Azores with the goal to make the fisheries more sustainable, responsible and profitable. The typical pole-and-line vessels employ between 17 and 19 crew members, and offload catches for local consumption, local canneries, and fresh export.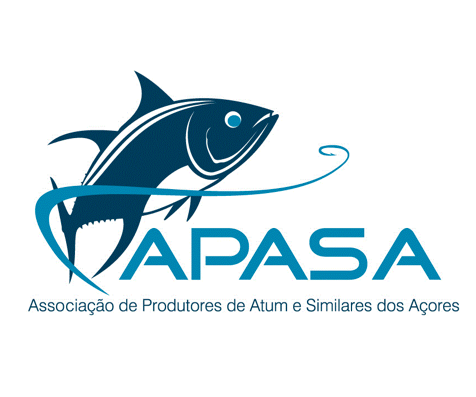 Pão-do-Mar
Pão-do-Mar is a producers' association, representing local tuna canneries on the islands of São Miguel, Terceira, Pico and São Jorge in the Azores. Founded in July 1984, the association works to defend and promote the corporate interests of its members, and to represent them before both public and private entities to encourage adoption of measures that are in their interest.
Pão-do-Mar facilitates a culture of cooperation and solidarity among its members, and supports the use of advanced equipment and technology as well as effective procedures to ensure the best quality and safety standards by the canneries. In recognition of their environmental stewardship, its members have received a number of certificates and awards for sourcing responsibly caught tuna from sustainable fisheries, thereby protecting the marine environment and tuna populations for the future.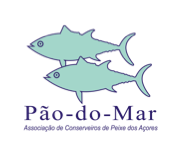 The Federação das Pescas dos Açores (FPA)
The Federação das Pescas dos Açores (FPA) was founded in 2005 to defend and represent the fishing associations of the nine islands of the Azores. The FPA advocates for the interests of the fisheries in the Azores, Portugal, and beyond to safeguard the social, environmental and economic activity, and to defend the dignified quality of life of all fishers who wish to sustain their livelihoods.
FPA achieves this through participation in fisheries meetings and by addressing the problems and needs of the fisheries through technical and specialised studies. Additionally, the FPA represents the fisheries of the Azores in the European Commission in Brussels.
The FPA collaborates on activities for the responsible management of fisheries and supports fishing communities, awareness raising, education and training, and direct aid to fishing enterprises.
Find out more

Regional Fisheries Management Organisation
International Commission for the Conservation of Atlantic Tunas (ICCAT)
Regional fisheries management organisations (RFMOs) are international bodies formed to manage fish stocks in an oceanic area. They include several countries with fisheries operating in that area, and some focus on particular species such as tunas. They are established through international agreements and treaties. RFMOs typically collect fishery statistics, assess fish stock conditions, monitor fishery activity and make fishery management decisions.
The International Commission for the Conservation of Atlantic Tunas (ICCAT) is an RFMO that is responsible for the management of tuna and tuna-like species in the Atlantic Ocean. In 2016 ICCAT celebrated it's 50th anniversary, and due to the wide range of countries it covers, it is known by 2 other names and acronyms: 'Commission internationale pour la conservation des thonidés de l'Atlantique' (CICTA), 'Comisión Internacional para la Conservación del Atún Atlántico' (CICAA).
Stock Status Reports
Albacore Stock Status
2021-03-25
The stock status of a fish species signifies whether a species is 'overexploited', 'fully exploited' or 'underexploited'. Different organisations use different parameters to assign these labels. For example, the Food and Agricultural Organisation of the United Nations (FAO) deems any species to have less than 40% of it's 'unfished biomass' to be overexploited.
The aim of assigning stock status to a species is to ensure that catches are kept at a level where future catches will not be affected, in other words, to maintain a healthy, viable population of fish.
In addition to biomass, spawning potential, catch trend and size-age composition may be used to determine stock status. These are important factors to consider as some species are more resilient than others and have different ecological features. For example, albacore tuna are unique in the sense that their primary food source is cephalopods, whereas other tuna species typically target fish as their primary food source. This unique aspect of albacore ecology is important to consider as their overexploitation will have an effect on other trophic levels.
Download Report
National Reports
Portugal
2022-07-01
National Reports are formal documents from members of the Tuna Regional Fisheries Management Organisation (tRFMO) in question. Each country that falls within the tRFMO must report on the state of their national fisheries in relation to the requirements of that tRFMO. They are normally presented to the annual Scientific Committee meetings by a credentialed head of delegation - considered national scientists. The tRFMO normally prescribes what the report should entail and how it should be structured, which would also include progress on key resolutions on conservation and management measures, and brief the ongoing scientific research of interest to the tRFMO.
Download Report