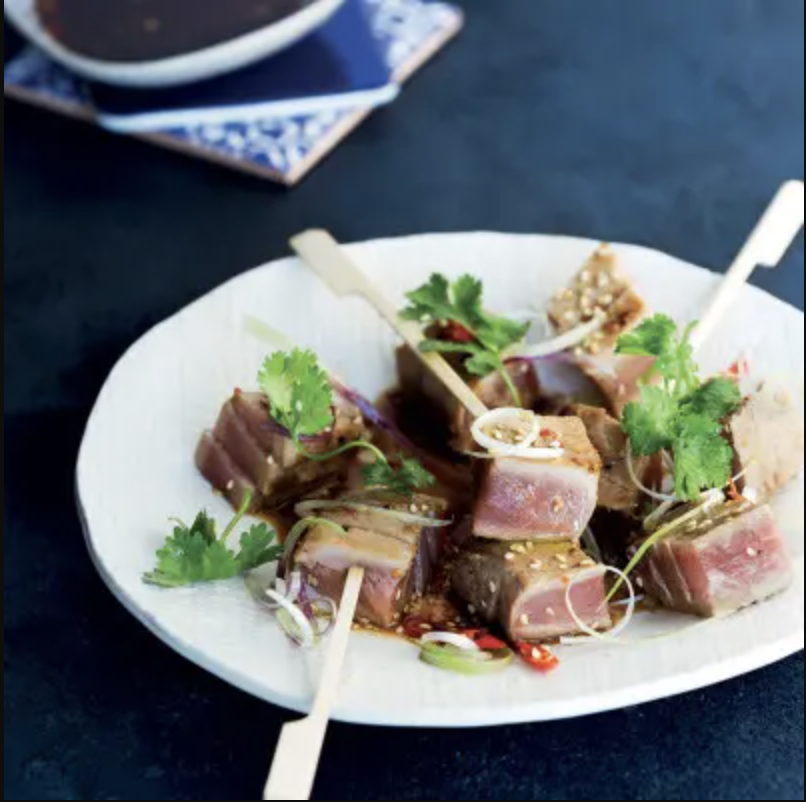 Recipe
Tuna bites with soya-and-sesame dressing
What you'll need
Ingredients
Quantity
150 g fresh tuna steaks, skinned
2 x
garlic cloves, crushed
4
fresh ginger, very finely grated
2 tbsp
soya sauce
4 tbsp
sesame oil
4 tbsp
Coriander
to garnish
soya sauce (for the dressing)
3 tbsp
sesame oil (for the dressing)
2 tbsp
rice wine vinegar (for the dressing)
1 tbsp
red bird's-eye chili, very thinly sliced (for the dressing)
1
Sugar or honey (for the dressing)
a pinch
Instructions
Method
Place the tuna steaks on a flat surface and slice into 1 cm-thick strips. Mix the garlic, ginger and soya sauce to form a paste and smear it onto the tuna.
Heat the sesame oil in a pan and sear the tuna for 20 seconds on each side, or until brown on the outside but still bright pink inside. Remove from the pan and cut into bite-size pieces.
Place on a platter and insert a wooden cocktail skewer into each piece. Drizzle over the dressing and garnish with coriander.
Chef's note: "Make the dressing ahead of time so that the flavours have plenty of time to develop. When searing the tuna, make sure your pan is piping hot and that you don't overcook the fish."