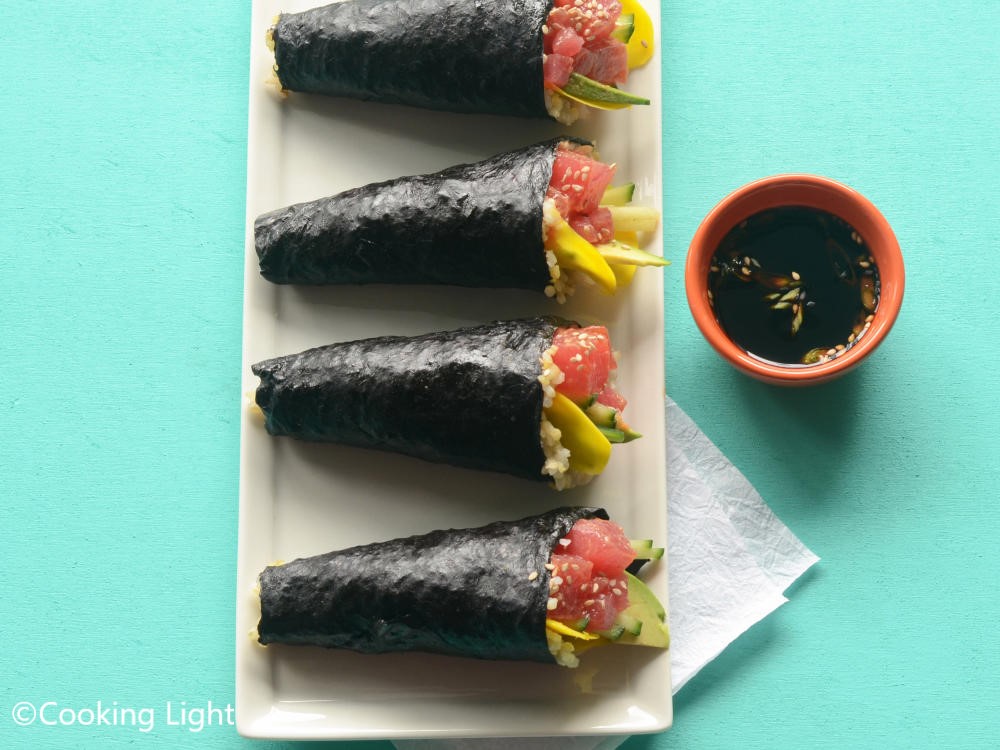 Recipe
Spicy Yellowfin Tuna Hand Roll
On an information page about yellowfin tuna, it would be a crime to not feature a recipe in which it is used in sushi. While there are countless versions of this Japanese classic dish to choose from, we decided to showcase the spicy tuna hand roll given the fame it has garnered worldwide. While sushi may be intimidating to make, give this recipe a go and see it really is not as scary as you may think.
What you'll need
Ingredients
Quantity
Japanese short-grain rice
280 grams
Konbu (dried sea kelp)
1.5 pieces
Sugar
2 tablespoons
Salt
1 teaspoon
Rice vinegar
2 tablespoons
fresh yellowfin or bigeye tuna
285 grams
Scallion, finely chopped
1
Sriracha chili sauce
4 teaspoons
Asian chili oil
4 teaspoons
Masago (smelt roe)
2 tablespoons
Yaki-nori (toasted seaweed)
4 sheets
Instructions
Method
1. Put rice into a medium pot, cover with water, and swish around with your hand until water clouds. Drain; repeat process 3–4 more times, until water remains clear.
2. Drain again, return rice to pot, add sea kelp and 1¾ cups water, and bring to a boil over medium-high heat. Boil until liquid barely covers rice, 8–10 minutes; cover, reduce heat to medium-low, and steam until rice is tender, 15–20 minutes more; discard sea kelp.
3. Transfer rice to a large bowl. Allow to cool briefly. Dissolve sugar and salt in vinegar in a small bowl, add to rice, and gently stir with a wooden spoon until rice is just warm.
4. Combine tuna, scallions, chile sauce, oil, and roe in a bowl and set aside.
5. Position 1 sheet of seaweed, shiny side down, with long edge parallel to edge of work surface.
6. Spread ¼ cup of the rice onto left third of seaweed. Spread 2-3 tbsp. of the tuna mixture over rice. Beginning with the left side, roll seaweed around rice and tuna on the diagonal.
7. Repeat process with the remaining seaweed, rice and tuna.