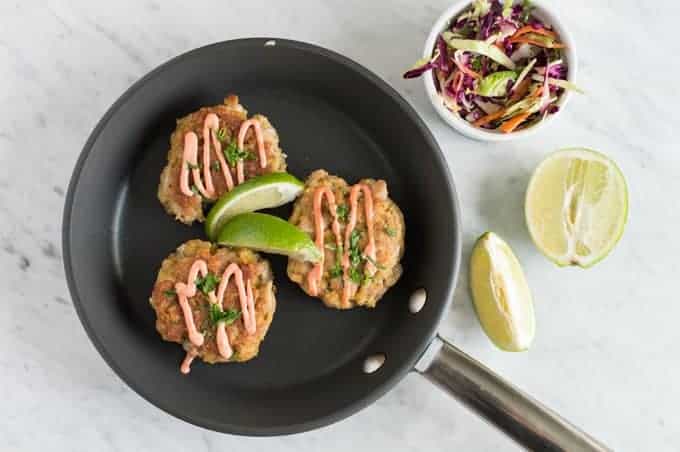 Recipe
Fresh Yellowfin Tuna Cakes
These traditional Hawaiian cakes provide a light yet satisfying bite that will remind you of a warm summers evening spend at a dockside restaurant. With the tangy sauce this recipe features, your taste-buds will thank you for treating them to this meal.
What you'll need
Ingredients
Quantity
Fresh yellowfin tuna
8 oz (225 grams)
Cracker crumbs
1/2 cup (50 grams)
Old Bay Seafood Seasoning
1 tablespoon
Salt
To taste
Pepper
To taste
Egg
1
Cilantro
To taste
Juice of fresh lime
1 wedge (or to taste)
Cocktail Sauce
1/4 cup
Mayonnaise
1/2 cup
Instructions
Method
1. Dice tuna into ¼" pieces and place in a mixing bowl
2. Squeeze one fresh lime wedge onto tuna
3. Salt and pepper tuna, and mix in old bay seasoning
4. Crush crackers and cilantro and mix to an oatmeal consistency (you want some larger pieces)
5. In a separate bowl, scramble the egg and add to tuna.
6. Combine cracker crumbs with tuna and mix together (it will look wet, don't worry the crackers will absorb the liquid).
7. Cover and refrigerate for at least 10 minutes
8. Heat a sauté pan over medium high and add tbsp olive oil
9. Divide tuna mixture into 3 equal parts and form into balls and lightly smash to flatten top and bottom
10. Place in sauté pan and cook over medium high heat for 2 minutes, turn over and cook for another 2 minutes.
11. Make sauce by combining cocktail sauce, mayonnaise and 1 teaspoon of fresh lime juice
12. Serve with lime wedge
Prep time: 15 minutes
Cook time: 5 minutes
Makes three cakes.
You can use canned yellowfin for this recipe, though the author notes this can lead to a very dry cake.