Sea Delight, LLC was founded in 2006 by Eugenio and Margarita Sanchez, the owners of ADS Seafood, LLC, as an initiative that sought to target the market of high quality frozen and fresh seafood products. Since then, Sea Delight has grown to be one of the major importers and distributors of frozen seafood into the US. They are also widely recognised as an industry leader in supporting responsible practices in the seafood industry.
Sea Delight serves the entire US market from its headquarters in Coral Springs Florida and its warehouse and distribution center in the greater Miami area.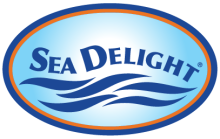 Supplying to
Vision

Our Vision is to improve the quality of life of the people who desire to produce, store, transport, and consume healthy seafood products. We strive to continue to add profitable, high quality lines of product that exceed the expectations of consumers worldwide and inspire all to participate in global conservation and sustainability efforts.
Mission

Our Mission is to provide the highest quality fresh seafood in the frozen form that is sold at competitive prices with premier customer service, while remaining dedicated to global conservation by educating and partnering with responsible fisheries.
We believe in sustainable seas and changing business models to help protect our planet's most valuable natural resource, our ocean. Sea Delight LLC is committed to supporting sustainable fisheries by sourcing our products from Fishery Improvement Projects (FIPS) and certified sustainable fisheries and to continue our commitment to maintaining a public sustainability policy.

—
Company Policies and Reports
Environmentally responsible seafood is fished or farmed in a way that safeguards future seafood supplies while minimising impacts on surrounding ecosystems. Sea Delight preferentially sources and sells environmentally responsible seafood and aims to increase the percentage of products offered from fisheries and farms that improve environmental performance over time.
In 2020 Sea Delight LLC sourced 99% of its tuna supply from handline tuna fisheries engaged in Comprehensive FIPs. Sea Delight also was recognised by online seafood magazine SeafoodSource as one of the "Top 25: Seafood Sustainability & Conservation" companies.
Fisheries Improvement Toolbox (FIT) Engagement
The team at Sea Delight is proud of their membership in IPNLF, their partnership with IPNLF in existing and new Fishery Improvement Projects and their membership and support for other major conservation NGOs and organisations. Sea Delight also works with their suppliers to help them partner with these groups and to guide them in compliance with the USDC SIMP traceability program as well as other traceability systems. The team supports fishery stakeholders as they work toward the goal of Marine Stewardship Council (MSC) certification.
FIP Schemes
Sea Delight has been supporting FIPs with IPNLF since 2014. They are proud to work with IPNLF and support the professional and goal-oriented way IPNLF approaches improving fisheries and supporting fishing communities. Sea Delight works with IPNLF in the Vietnam Handline Tuna FIP through their membership in VINATUNA, the FIP co-administrators. Sea Delight is also a participant in both the IPNLF/AP2HI WCPFC Indonesia Handline Tuna FIP and the IPNLF/AP2HI IOTC Indonesia Handline Tuna FIP. Under IPNLF guidance, these improvement projects are vital to ensuring these fisheries are implementing best practice techniques in all areas of their fisheries, including supporting the workers and best environmental practice.