Hamburg based company Hummer Pedersen have been seafood specialists since 1879, ever since Frederik Carl Christian Pedersen founded the company "Fr. Pedersen Schiffsproviant".
After various well-known owners such as Dr. Oetker or Albert Darboven that managed the company, it has now been in the family business again for 20 years. Functioning as wholesaler, fish monger, and bistro - owner Karl Niehusen runs "Hummer Pedersen" in Grosse Elbstraße 152, Hamburg in a highly modern way, without losing sight of tradition.
From monger-to-bistro; In order to combat food waste, Hummer Pedersen started a small ready-to-eat shop next door and sell their products at the end of the day. Now, that shop has turned into an astonishing bistro seating over 120 people with nothing but raving reviews on various review sites and esteemed online food media.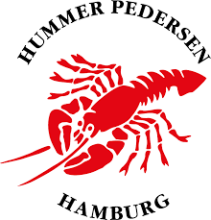 Supplying to
Creatures + Quality equals Responsibility

Meeting the requirements of the individual species

We import living creatures and are aware of our responsibility that comes with it. We match the quality and temperature of the water and the level of illumination to correspond to the requirements of the individual species. Shellfish and crustaceans are particularly sensitive and their care requires a high level of experience, therefore we keep live lobsters in specially designed tanks in air-conditioned rooms.
Bridging Tradition and Future

Our Commitment to Quality and Sustainability

Rooted in tradition, our company has successfully shifted into the modern era.

Always forward-thinking, we constantly strive to optimize our journey toward comprehensive sustainability. Instead of pursuing constant product availability, we consciously follow an alternative path focused on prioritizing quality.

Quality is our utmost priority. When it comes to our products, our belief is that sustainable practices and exceptional quality go hand in hand. To us, quality means thinking about the entire lifecycle of a product and acting in a resource-efficient manner.

With our approach and commitment, we represent a modern business model. A model that bridges the gap between past, present, and future yet remains true to our core principles and values. Our traditions have thus become the driving force for the future.
Variety and quality of the seafood we offer are the pillars of what we do. But, more importantly, we care about the creatures we source. Only through the high-quality form of the holder can we achieve the level of quality that our customers deserve and therefore, we hold our suppliers just as responsible for ethical sourcing practices as we do ourselves.

—