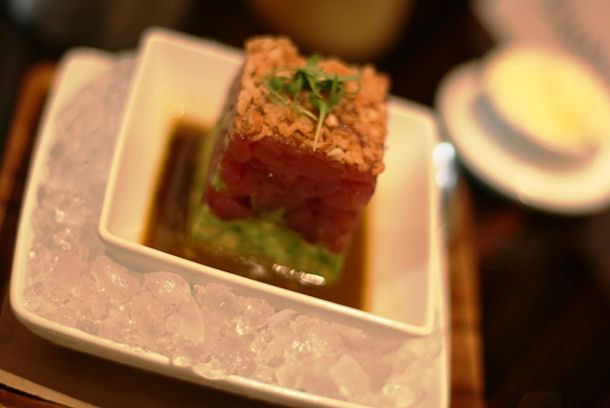 This exquisite recipe takes all of the essentials of the classic French steak tartare dish and modifies them to suit the depth of flavour that the bluefin tuna offers, even adding wasabi to provide a Japanese twist to this European delicacy. While this is a staple of high-end restaurants, it is fairly straightforward to also make at home, requiring few higher-level tools and techniques.
What you'll need
Ingredients
Quantity
Shallots, finely chopped
3 tablespoons
Wondra flour
2 tablespoons
Fine sea salt
To taste
Wasabi powder
1.5 teaspoons
Light soy sauce
3 tablespoons
White mirin
2 tablespoons
Mustard oil
1 tablespoon
Rice wine vinegar
1 tablespoon
Honey
1 teaspoon
Freshly ground black pepper
To taste
Fresh bluefin tuna, cut into 1/8th inch dice
500 grams
Extra virgin olive oil
6 tablespoons
Haas avocados, peeled and diced
2
Sliced ciabatta bread, toasted
6
Instructions
Method
1. Fry the Shallots: Pour the oil into a small saucepan to a depth of about 1 inch. Heat the oil until a small piece of shallot sizzles rapidly when added to the pan. Toss the shallots with the flour. Carefully add the shallots to the oil and fry until golden brown, 30 to 60 seconds. Remove the shallots with a slotted spoon and drain on paper towels. Season with a pinch of salt.
2. Make the Dressing: In a medium bowl, stir together the wasabi powder and 1 tablespoon water to make a smooth paste. Whisk in the soy sauce, mirin, mustard oil, vinegar, and honey. Add black pepper to taste. Set aside.
3. Make the Tartare: Toss the tuna with the olive oil, salt and pepper to taste. Season the avocados with salt and pepper to taste.
4. To Serve: To mould the tuna into a disk or square form, place a 3-inch form, tartlet ring or an empty tuna can with the top and bottom lids cut out on a chilled plate. Fill the form with a layer of avocado and top with the diced tuna and fried shallots. Lift off the form. Drizzle the sauce around the tuna.
5. Serve with the ciabatta
Serves: 6
Prep time: 15 minutes
Cook time: 10 minutes