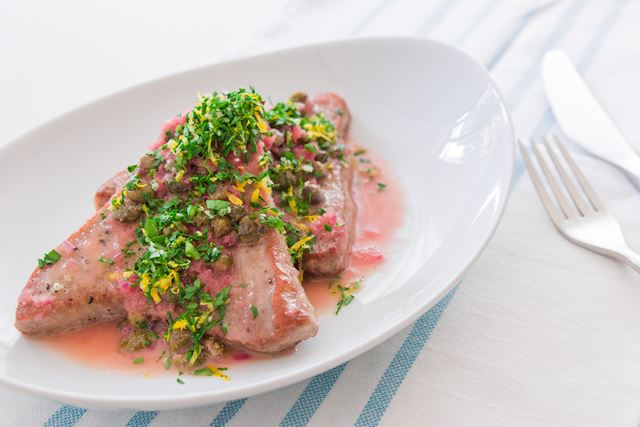 This Italian classic has been given a modern twist with the use of a bigeye tuna steak. With its citrus and buttery notes, the sauce and garnish of this dish perfectly compliments the deep, rich flavour of the bigeye to deliver a delicious starter for both dinner parties or as a luxurious treat for yourself and your loved ones.
What you'll need
Ingredients
Quantity
Bigeye Tuna
225 grams
Garlic cloves
1.5
Fresh flat-leaf parsley
8 grams
Lemon zest
2 grams
All-purpose flour
2 tablespoons
Extra-virgin olive oil
2 tablespoons
Shallot
1
Vegetable Stock
1/2 cup (118 ml)
Lemon juice
1 tablespoon
Unsalted butter
1 tablespoon
Capers
17 grams
Instructions
Method
1. To make the gremolata, add the garlic, parsley, and lemon zest to a small bowl and stir to combine. Set aside.
2. Generously salt and pepper both sides of the tuna and then dust with the flour.
3. Add the olive oil to a frying pan and heat over high heat until the oil is shimmering. Fry the tuna on one side until it's starting to brown and then flip and fry the second side. Transfer the tuna to a plate and then drain the excess oil from the pan (but do not wipe or wash it).
4. Add the shallots and saute until tender and fragrant.
5. Add the vegetable stock and boil until most of the liquid has burned off.
6. Add the lemon juice, butter and capers and stir vigorously to emulsify the butter, lemon juice and stock.
7. Return the tuna to the pan and flip 2-3 times to coat with the sauce.
8. Serve immediately with the sauce, and a generous pile of gremolata.
Serves: 2
Prep time: 5 minutes
Cook time: 7 minutes