Product
Sainsbury's Albacore Tuna in Extra Virgin Olive Oil, Taste the Difference 225g
Sainsbury's
Taste the Difference with Sainsbury's Albacore Tuna in Extra Virgin Olive Oil
This albacore tuna, also known as Thunnus alalunga, is caught off the North Pacific and the North East Atlantic coast and preserved in extra virgin olive oil for freshness.
These fillets are succulent, juicy, and perfectly versatile. Fry, stir, or bake, these fillets are the perfect addition to your dishes. Pop in the fridge when you've opened the jar.
With a widely recycled jar, this tuna is good for your plate, the ocean, and the planet. 
Find out if this product is in stock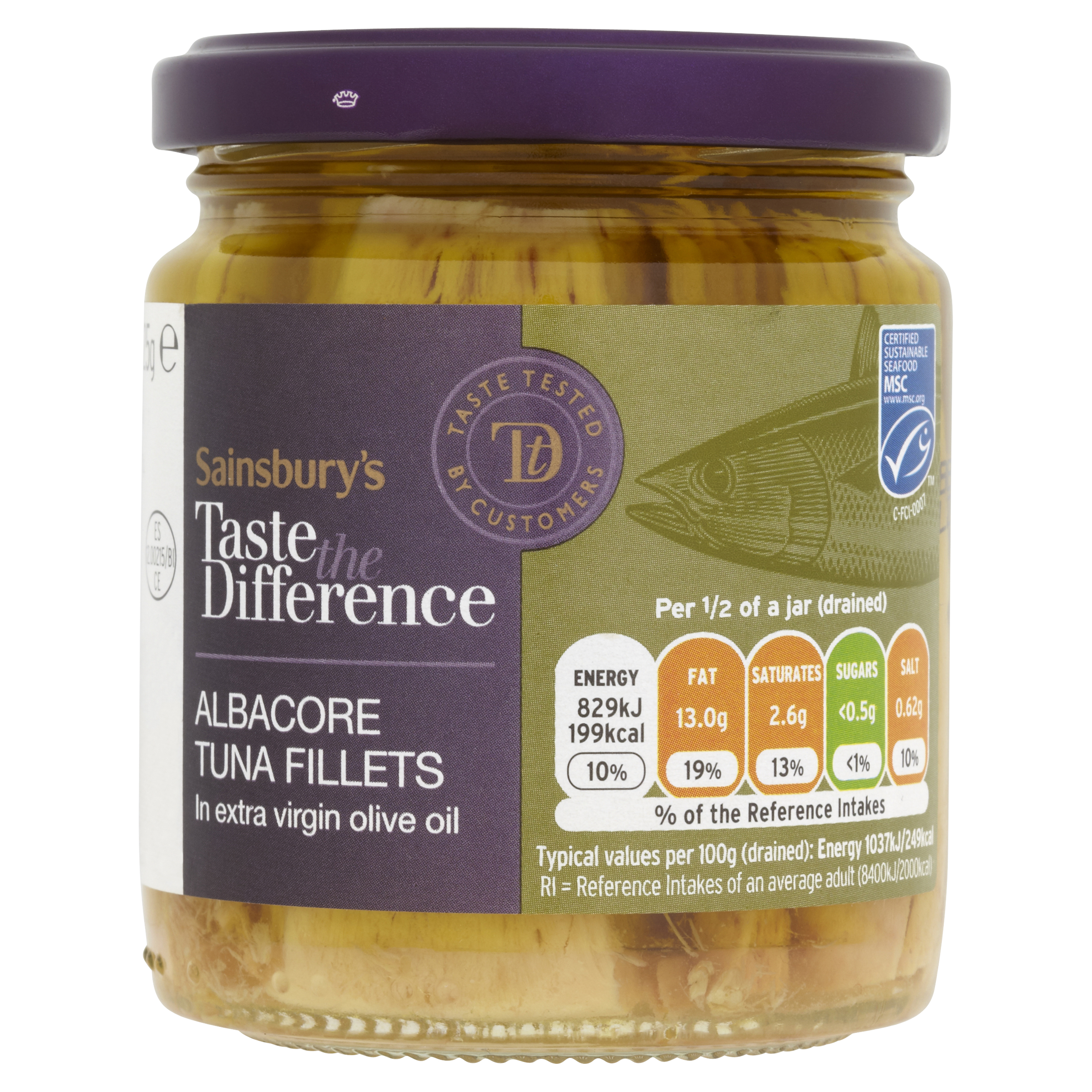 Fish With Thought

Sainsbury's mini website, 'Fish With Thought', explores the need for transparent, sustainable and accountable fisheries. Their blog based articles are aimed a the consumer to educate and empower them to make the right choices when purchasing fish.
FAD Free

Sainsbury's went FAD-free in 2018, meaning that this product has not been caught using dangerous and invasive synthetic fishing aggravated devices.
Inspiration needed?

Sainsbury's inhouse recipe magazine features numerous tuna recipes for an easy and tasty dinner for the whole family.
Since Sainsbury's set up shop in 1869, it has always had a strong sense of social and environmental responsibility and through its brand commitment Helping Everyone Eat Better, the supermarket is supporting its customers to eat better for their health and that of the planet. Through its sustainability pledges it is helping to drive lasting, positive change in the UK and internationally. Sourcing with integrity is key to how Sainsbury's operates, and this is reflected in the fact that much of its own brand canned tuna is pole-and-line caught.
Find out more about

Sainsbury's
This fishing method provides the most selective targeting of tuna possible, with minimal bycatch of non-target fish and marine wildlife like dolphins, turtles and sharks. Pole-and-line fishing targets schools of tuna near the ocean surface, and therefore only needs to use short lengths of line on each pole, typically  5-10m.
Find out more about

Pole-and-line
Albacore tuna have particularly long pectoral fins, which inspired their name "Tombo" meaning dragonfly, in Hawaii. This species of tuna is an important contributor to the US canned tuna industry, but can be eaten in numerous different ways.
Find out more about

Albacore Tuna