Product
EDEKA tuna fillets in their own juice and infusion
EDEKA
Fished with fishing rods in particular with little bycatch
MSC- controlled fishing
In its own juice and infusion
With ring pull
Canned for convenience, this product brings the classic tasty tuna straight to your plate: a pantry staple.
Find out if this product is in stock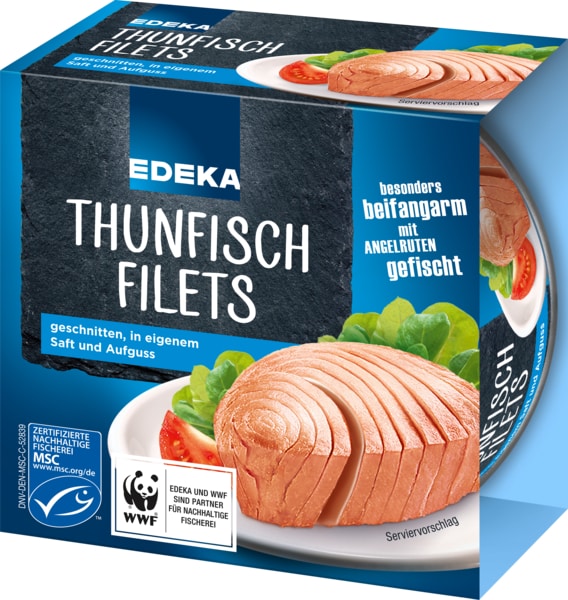 Fish Procurement Policy

Since 2009, EDEKA has consistently based its fish procurement policy on sustainability criteria, relying on sustainable fishing and supporting the protection of the seas and fish stocks. In particular, the focus has always been on tuna fishing.
Own Brand

EDKEA's own brand range of fish is continually expanding and adapting to meet their sustainability criteria. They offer fish and marine organisms from environmentally-friendly fisheries which maintain stocks, and also use increased labelling for fish products to educate and inform consumers on what they put in their baskets. They further educate consumers and provide information on the complex problem of overfishing of the seas both internally and externally, bringing awareness for the need of sustainable fishing.
Leading Fish Retailer

Big Fish in a Big Pond

EDEKA is Germany's largest fish retailer - with more than 2,000 fresh fish counters and a wide range of chilled self-service goods, frozen products, canned food and marinades. As a leading fish retailer, EDEKA takes responsible sourcing commitments seriously.
EDEKA sells responsibly sourced, sustainable tuna in the form of whole fillets in a jar, or as tuna pieces in cans. Both variations are sold in a number of delicious flavours, including in olive oil, sunflower oil, Thai chilli, Mexican and Tuscan-style.
Find out more about

EDEKA
This fishing method provides the most selective targeting of tuna possible, with minimal bycatch of non-target fish and marine wildlife like dolphins, turtles and sharks. Pole-and-line fishing targets schools of tuna near the ocean surface, and therefore only needs to use short lengths of line on each pole, typically  5-10m.
Find out more about

Pole-and-line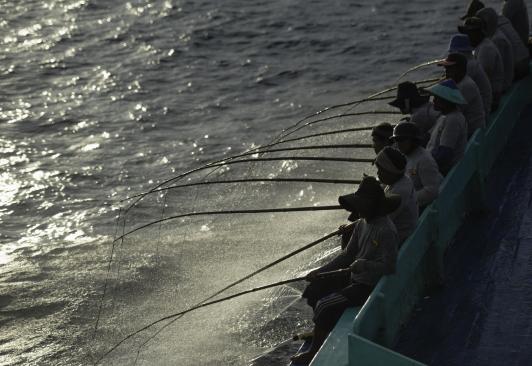 Skipjack are generally smaller in size compared to other tuna species and also have shorter lifecycles, meaning they can start reproducing very early, after only one year. This has benefits for sustainability, and makes it one of the most abundant tuna species.
Find out more about

Skipjack Tuna