Soneva, the world's leading sustainable luxury resort operator established in 1995. It comprises Soneva Fushi and Soneva Jani in the Maldives and Soneva Kiri in Thailand. Soneva is headquartered in Bangkok, Thailand.
As the custodians of pristine locations, Soneva is built on the foundation that a business must exist for a greater purpose than shareholder returns. They believe in natural excellence in everything we do, whether it is delivering the ultimate guest experiences or providing energy to the rural poor in Myanmar through the Soneva Foundation.
Soneva pride themselves on setting the standard for barefoot luxury resorts in the Maldives and Thailand dedicated to sustainability and unique experiences.
Find Their Resorts Here
Logo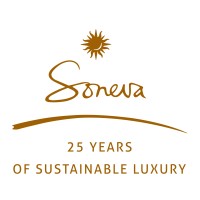 Star-gazing

Shine bright like a diamond

Did you know? Every Soneva resort has its own observatory that you can use to see the night sky clearly!
Green thumbs

Soneva Jani has their very own gardens where they grow many of the greens that they serve you fresh from their kitchens. You can take your own private tour with their Horticulturist and pick your own ingredients or plant your own tree!
Get to Know the Ocean

Soneva offers a multitude of activities that will help you to reconnect and learn about the ocean environment. From diving to fishing, and many water sports inbetween, your inner mermaid will be singing.
#DiscoverSoneva

Follow the hashtag #DiscoverSoneva for your very own taste of the 'most instagrammable' snaps of this luxury get away
We work closely with local fishers in the Maldives to ensure we get fresh fish caught using sustainable methods. Our membership of the International Pole & Line Foundation further strengthens our commitment to serving tuna that is caught using responsible and transparent fishing practices

—
Company Policies and Reports
Soneva Jani has a whole host of exquisite dining experiences across their resorts and villas. They use fresh ingredients from their gardens, bring renowned chefs in to create their best dishes, and often offer their catch of the day for the freshest fish. 
Their membership with IPNLF reaffirms their commitment to sustainable trading throughout their operations. They joined IPNLF through the new Responsible Tourism Initiative to enhance their understanding of one-by-one fisheries, particularly the traditions, the supply and the people involved. 
Their sourcing focuses on proactively showcasing their commitment to responsible local tuna fisheries and the communities that they support, which are the heart of the Maldives.
Fisheries Improvement Toolbox (FIT) Engagement
Soneva is the first luxury resort to join IPNLF. Their partnership combines the two main industries in the Maldives: fishing and tourism. By putting sustainability at the forefront of their operations, they are making waves within the tourism and travel industry.